School
Meeso Communications School Surveillance Solution Design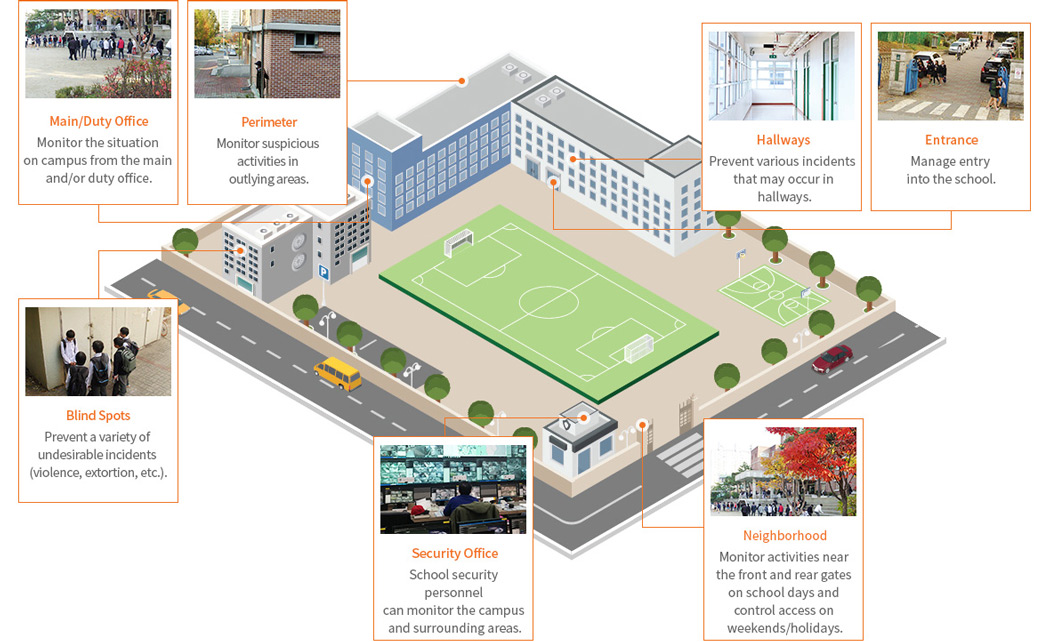 Schools are where children, our future, spend most of their time, and hundreds of people gather in small spaces each day. Meeso's perfect solution is capable of resolving the many complex cases from outside intrusion to internal security.

Gate

Entrance

Blind Spots

PB-NW2274SIP-L

PB-NW2484BP-AF

PB-NW2884SP-A

PB-NPTZ6223A-L

PB-NW1252SIP-L

PB-ZND2258SIP-L

Hallway

Security/Duty Office

Perimeter

PB-ZND1243SIP-L

PB-TACD1256A-W

PB-NVR4232

PB-XVR3216

PB-NW2284SIP-L

PB-NPTZ6220IR

Features and benefits

01

High Definition Video

02

WDR Backlight Compensation

03

Ultra Night Vision

Utilize crystal-clear images as evidence in incidents with Meeso's superior optical technologies

Obtain clear images even under intense backlight.

Obtain precise images via infrared cameras even in pitch-black environments.

04

Super Noise Control

05

Powerful System Integration

06

Hallway View

Remove noises in images that occur in low-light environments.

Effective video recordings via time, event, and follow-up search functionality. Privacy features are provided when backing up video footage.

The hallway view feature captures footage at a vertical 9:16 ratio suitable for narrow corridors, optimizing the monitoring view to fit the surveillance zone.

Meeso Analog/Network Hybrid System Configuration

Meeso Accessories make your installation high-efficient and cost-effective

RG59-IP Converter

Don't throw away your old cables!

IP camera works on RG59 cables, maximum 2000 meters!

CAT5-BNC Converter

No need new cabling!

AHD/TVI camera works on CAT5 cables, maximum 300 meters!
For a Safer and Better World!
-----------------------------------------------------------------------------------------------------------------------

Bld B, Hi-Tech Incubator, No.1001 XueYuan Avenue, Nanshan, Shenzhen, China